About Us
We are a full service tour operator comprised of experienced travel specialists with expertise in photography. Headquartered in Kansas City, MO., USA with representatives on the ground throughout Latin America. We not only know the places you want to visit – we live here.
Whether you are large group with specific needs, independent adventurer, or a family seeking personalized service, Photo Tours & Travel is dedicated to making your vacation unforgettable and sublime.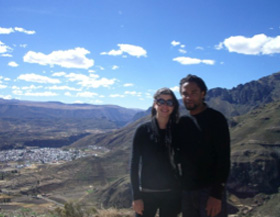 Vanise and James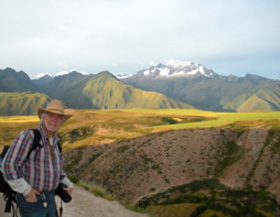 T. Michael Stanley
What we do: We offer the essentials for any traveler who wishes to visit South and Central America, as well as advanced services for beginner, amateur, and professional photographers. We will assist you with anything from hiking the Inca Trail and luxury yacht cruises in the Galapagos to wine tasting in Argentina or learning how to samba in Brazil.

Who is behind it?

Photo Tours & Travel was founded by James Bridgeford II and his wife Vanise Januario in 2008. James is originally from the USA and Vanise from Brazil; however the two met while living in Cusco, Peru. James was working as the Director of Marketing for a boutique hotel and Vanise was a Vacation Planner for groups and individuals visiting Peru. James, is an avid photographer and mentioned that he wanted to share insights and personal recommendations with travelers and photographers who were visiting the region. Vanise suggested the idea of creating "Photo Tours".

How did it start ?

What started off as a random idea and a simple conversation lead to the creation of Photo Tours & Travel. In the company's initial stages the couple worked with itineraries dedicated to helping photographers travel throughout Peru. As they evolved, James and Vanise realized that the services they offered were not only useful for photographers, but for any traveler. In 2009 the company began offering tailor-made vacation packages to other destinations such as Costa Rica, The Galapagos Island, and Chile. In 2010 the couple moved to Buenos Aires where they lived for several months. With determination and hard work they took the company to the next level by offering customized vacations throughout all of Latin America.

Photography Inspiration – Photo Leader

At the age of 18, James received his first camera which was a fully manual Vivitar 250/SL. There were no photography classes offered at Drake University where James was attending college so he turned to T. Michael Stanley, a longtime family friend to get some tips and pointers. T. Michael unselfishly shared his knowledge with James, and allowed him to use the studio. In being offered critiques and exposure to a variety of situations James talent as a photographer blossomed.
In 2009, T. Michael Stanley, who has been a professional photographer and educator for more than 40 years, traveled to Peru to meet with James and lay the groundwork for what would become the Photo Tour Leader certification course. T. Michael works closely with many of the photography groups and first-hand with all those who aspire to become Photo Tour Leaders. For more information about T. Michael please visit his website at www.tmichaelstanley.com

Take a look at what some of our clients have to say about the quality of our services.